The 29th Special Exhibition Event

Enjoy interacting with Kiso Horse!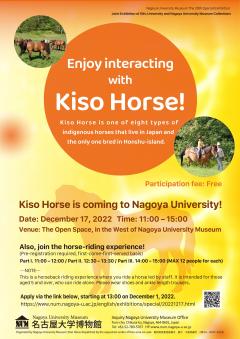 Kiso Horse is coming to Nagoya University!
Kiso Horse is one of eight types of indigenous horses that live in Japan and the only one bred in Honshu-island.
Venue: The Open Space, in the West of Nagoya University Museum
Date: December 17, 2022
Time: 11:00 - 15:00
Also, join the horse-riding experience!
(Pre-registration required, first-come-first-served basis)
Part I. 11:00 - 12:00 / Part II. 12:30 - 13:30 / Part III. 14:00 - 15:00 (MAX 12 people for each)
Apply via the link below, starting at 13:00 on December 1, 2022.
―NOTE―
This is a horseback riding experience where you ride a horse led by staff. It is intended for those aged 5 and over, who can ride alone. Please wear shoes and ankle length trousers.
Organized by Nagoya University Museum
Kiso Horse dispatched by the equestrian center of Kiso-uma-no-sato
Date

2022/12/17(Sat)

Time

11:00 – 15:00

Venue

The Open Space, in the West of Nagoya University Museum

Fee

Participation fee: Free

Contact

Nagoya University Museum Office
Furo-cho, Chikusa-ku, Nagoya, 464-8601, Japan
TEL: +81-52-789-5767 / FAX: +81-52-789-5896